Historical Resources
At the end of the nineteenth century, 56 Old Brompton Road (then Sussex Place) in London was the meeting place for harpists from all over the world. From this address, Joseph George Morley made and repaired harps and sold music and strings. His wife Cecilia, herself a harpist, was the dedicatee of many compositions and received gifts and tributes from many a famous musician.

Together they collected a huge library of important sheet music, documents and images: this was handed down to John Sebastian Morley and his wife Betty, and thence to Clive Morley.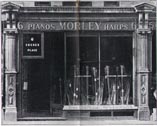 We have made many items from this collection available as a free resource for study and general interest.


All items remain copyright and must not be sold, replicated or reproduced without permission. If you wish to use an item for anything other than private use, please contact us.

View Historical Sheet MusicView Historical DocumentsView Historical Images