Customer Comments
What our customers are saying about our harps, services and website…
Hi Morley Harps. I've just received my Triplette Christina Harp and am thrilled with it,such a lovely harp and the sound is lovely. Thank you so much for your help in ordering and the quick delivery....All the best and have a good Christmas......
J
o0o
Hello,
Just wanted to say that I was delighted when my new Ravenna 26 arrived, even earlier than I had expected, last Saturday. It is a lovely little harp and I've already taken it out to play with others.All was even better than I hoped. It does have a slightly different voice from my bigger Dusty but it sang brightly with the fiddles.
Thank you so much for your advice and good service. Can't afford to buy harps from you routinely but I do spread the word to anyone remotely interested.
Best wishes
L P

o0o
Hi Lisa,
Just want to say that my FH36S is a real joy! Now that I am getting to know it, it is hard to keep my hands off it. Such fairy-like- bell tones in the upper register and so much power in the bass. Thanks so much for all your help in making the choice. I could not be more pleased.
All best, and thankyou for the fabulous service.
P C

o0o
Dear Sir/Madam
It is often the case in this day and age that people only complain about poor service. I recently contacted Morley Harps in order to purchase a Dulcimer and associated equipment. I was dealt with very efficiently by your Miss Marija, (sic.) who was very pleasant efficient and timely when promising to call be back (called me back within 10mins) Due entirely to her approach to me as a customer I have made my purchase from Morley Ltd. I expect delivery tomorrow and feel very satisfied with Morley Ltd. Please forward my personal thanks to Marija, her patience and kindness I value very much indeed.
Kindest Regards
A S

o0o
To all at Clive Morley Harps,
Thanks to all for a wonderful visit today, we thoroughly enjoyed ourselves. Thanks to Marije for all the arrangements and to Clive for his time in showing us around and for sharing his knowledge and experience with us. What an amazing place.
Elan is over the moon with her new harp.
Thanks once again. Until the next time….
S O

o0o
Finding the right string (on the online shop) is easy as they are listed by harp type, octave and number. Thank you.
I love my Aoyama Grannard!
D J

o0o
Dear Sir
I write to thank you for a very pleasant experience when I came to Goodfellows a week or so ago, from the very first contact with Claire, helpful and encouraging, to arriving after a long journey in miserable weather at an oasis of light and warmth and quality; seeing the impressive range of instruments beautifully displayed, with the delightful Maria being very professional and knowledgeable explaining and demonstrating the various models, and she made a good cup of tea!
As you will know I bought a Kerry which I felt to be a sensible start and with which I am very happy. If I ever reach a standard when I can change up to another model, I will beat a path to your door again.
With very best wishes
P H

o0o
The harp has arrived It is nice I am trying to get use to it and how to tune it. I must say you are very professional. I did browse a lot on the internet and I am glad I eventually buy from your company.
Thank you
K W

o0o
Hello
Me and my partner visited the Edinburgh Harp Festival on Saturday, looking at the possibility of buying my first harp. I ended up going home, very happily, with one of your FH 34 strings and am over the moon with it.
I just wanted to comment on the outstanding service provided by Ruth, who was incredibly knowledgeable and helpful to us and everyone else who was there.
Without doubt, we would have ended up with one of your harps anyway, as the sound of them was wonderful, but all the help provided by Ruth really blew us away.
I would be most grateful if you could pass on our thanks to her for all her support.
Thanks again
R K

o0o
Dear Kathryn
This is just a quick e-mail to say that I very much enjoyed the 'Hands on the Harp' course last Saturday (19 March). Please pass on my thanks to Ruth – I learnt a lot from the lesson.
I was also very impressed by the beautiful surroundings!
Thanks again,
Regards,
G A

o0o
Just a quick response to thank you for the cheque + receipts that both arrived today. I'm really happy with my new Ravenna (it sounds fab!) and am so grateful to you and your staff for the high quality of service I received.
Morley Harps will certainly receive my return custom in the future!
Yours most sincerely,
L S

o0o
Dear Ben and Ruth
Thank you for all your help with purchasing my new Etude 45 pedal harp. It is really beautiful and I have spent the weekend playing all my pieces which now sound so much better!
Kind regards
H B

o0o
Hi Everyone!
May I say a HUGE thank you to Claire for sending the tuning key so quickly. It was gone 4.30pm on Tues when I ordered it and it was here first thing this morning. BRILLIANT!! Thank you so much.
Also to everyone else – it doesn`t matter whether I order a new string, music or CD – it is always there the next day! No-one else provides such a constant service! We can always rely on you. Thank you!
Apologies to poor old Ben – I always seem to catch him as he is shutting up and going home (if he ever does……?) and manage to delay him. Sorry Ben – and thank you for always being so nice and polite!
Kindest regards,
H G

o0o
I'm really impressed with how easy it was to find (and listen to!) the grade music and then put it in the basket. Excellent – you must have worked really hard on this and it's so simple to use for me (and for my student – I was able to send her a link to the grade 1 page)…Brilliant site – thanks!!
M H

o0o
Dear Clive Morley Harps
I would like to thank you for your prompt and excellent service earlier this month. Having had no success through our NZ importers, after attempts spanning some months, I received the material from you within five days of ordering .
Very much appreciated. The teacher and her pupil are delighted.
I S, Wellington, New Zealand
o0o
Just to say thank you so much, my harp arrived bright and early on Saturday and is extremely beautiful! The pickups sound great too, it was definitely worth getting them fitted, I'd recommend it if anyone is unsure whether to bother or not.
Thanks again for your excellent service, I very much appreciate your friendly communication and professional advice.
Sincerely,
E D
o0o
Dear Ben,
I am writing to thank you for the use of the lovely Dusty Strings style 36 that I used in Edinburgh last week. I greatly appreciate the accommodation you made on my behalf. Your assistants were not only helpful but extremely friendly as well. I enjoyed working with them very much.
Thank you for making my Edinburgh experience so pleasant with the provision of such a beautiful harp.
Sincerely,

R P
o0o
I regularly look at your videos and recommend your website – I think it is terrific and a model of its kind! Absolutely fantastic! Thank you for this.
D P

o0o
I thought that you might like to see these few snaps which I took after the masterclass on Tuesday.
Thank you so much for sending David [Watkins] – he has given each of the children some very special memories to take away with them. His recital was inspirational, informative and breath-taking, and I am certain that this was the key factor when it came to the school making that final decision to purchase a new harp.
Your staff were wonderful too, and nothing was too much trouble for them when it came to talking to pupils/parents and moving harps etc etc etc.
We are all very excited here about the arrival of our new harp, and I know that some of the children want to write personal 'thank you' letters to David in due course.
With many thanks to all involved.
M M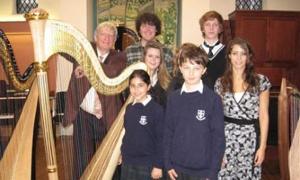 o0o
One of the harps in the music school where I teach (in Ireland) is an Aoyama Orpheus 47, and a couple of the students bought them too; and I taught a girl who owned an Aoyama Etude, which is a smaller harp going down to bottom G, with double-action discs extending further down than the Salvi/L&H three-quarter-size models. I have been very favourably impressed with all of them.
I really like our Orpheus (the kids do too, and they also have access to a Salvi Diana) and I find it has a sweet but also bright tone, and is mechanically consistent and reliable. I also thought the little Etude was a fine instrument for its size and weight. It's easy to forget (or not know) that Aoyama has been around for over a century. They appear to have undergone something of a renaissance in recent years, in which the tone & quality of their harps seems to have taken a leap forward – certainly their reputation is higher now than it was some years back. (I'm referring to pedal harps – their Irish harps have long been popular here, though now there's a lot more competition.)
I certainly think Aoyama instruments compare favourably with others in their price league, and are much better than they used to be. I think they have a bigger presence in Europe than they seem to in the States, but they're well worth checking out.
B S

o0o
I just wanted to thank you for putting up the sound files along with the music under the grade levels of the ABRSM music book section of your website. I wish more online harp stores would do this. It really helps when deciding on music to purchase. Many times I have purchased music because the title or description sounded good, only to find it wasn't really what I was imaging it would be.
So, thank you for adding this. I'm sure it took lots of work, so I just wanted to let you know it's appreciated. Hopefully, someday there will be even more of the grades sound files up.
K R
o0o
A very well designed and easy to use website, your service is always very quick, look forward to seeing your staff at Royal Welsh.
o0o
Excellent site, easy to navigate and the fact that exam music is listed by grade and list is so much easier than many other sites I've used, many thanks, will definitely return!
W B
o0o
I just want to say a massive THANK YOU for Saturday's Harp Afternoon [at High Wycombe Music Centre]. You were brilliant and all your hard work (not just harp humping but running the ensembles too) was greatly appreciated. David [Watkins] was, of course, fabulous and my pupils are hugely inspired by his performance and attitude.
Thank you also for your patience (Saturday has certainly taught me a lot about putting on harp events!).
S G
o0o
Dear Ben Morley,
Many thanks for sending me my new 3rd octave E string which has just arrived. ( I only posted my string to you on Saturday)…I've only spent £9 but feel as well treated as if I'd spent thousands on a new harp…..I can't thank you enough, Best wishes,
G R
o0o
Dear Clive and Ruth,
I want to say a huge thank you for everything you did on Saturday. My little harp has settled well. It hasn't been fully strung for 15 years. I have spent every spare minute playing it this weekend. It was so very kind of you to restring it for me. I loved hearing Ruth play the harps and I am very tempted to come to a weekend classes at Easter or during the summer holidays.
After several unsuccessful phone calls last week I thought that it would be impossible to get my harp fixed. Then we found you and it was like loosing a sixpence and finding a £5 note!
W G
o0o
Dear Clive
Thank you so much for your brilliant service today, Saturday 01/09/2012 when we visited the shop to select a Harp for our daughter. Your knowledge, advice and hospitality was first class and heart felt. Not only did we gain more insight about the history of harps and in particular Morley Harps from your collection but we learnt much more about the world from France, and other parts of the world, including Ireland and the UK. Great stories too about your time in South London and Riverston school.
We took you advice and stopped by the Woollen Weavers for tea and a tour of the shop which was absolutely remarkable. We then spent the rest of the day at the Cotswold wildlife park which was also great. In addition we are very happy with our Harp, most importantly our daughter is very pleased and she is already practising.
Great Service..!
Many Thanks
Mr and Mrs S
o0o
Dear Ben
I wanted to write a letter to thank you for your invaluable help with the teenage harp course, but thought that on this occasion you might prefer an email so that you can view what we covered on the course. I try to provide sessions that will useful for the students' futures and also cover material that they are not likely to be doing in their weekly harp lessons. As well as covering standard repertoire, this year we took a couple of pop songs and showed the girls how to make up their own arrangements, without written music, to play as background music, weddings etc.- it was a great hit! You can view one of the performances on this link:
The solo recital is always the highlight of the course and I am grateful for your support with this. Keziah played beautifully, and was also very comfortable with all the teenagers.
With best wishes to you all.
R F

o0o