Serving the Harp World Since 1817
Secure payment
Visa, Mastercard Credit,
Maestro via Sagepay, Paypal

fast shipping
See more details
Erard Provenance Certificate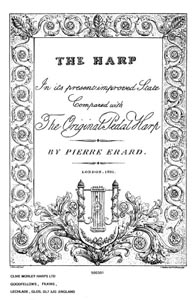 Clive Morley Harps owns the original English Erard factory records. We are therefore able to research and provide details of individual English Erard harps. We can provide the date that the harp was made and, in many cases, we can also say who it was sold to and when, and also how much it was sold for.


The only information we need is the harp's serial number which is found on the action plate.


We issue a certificate detailing the available information for the harp in question.


This service costs £20, or is free with the purchase of a facsimile copy of Pierre Erard's 1821 treatise on the harp.


For further information about this service and to order a certificate or purchase Erard's harp treatise, see the Erard Provenance Certificate Webshop Page.